12 Cost-conscious Tips to Increase the Value of Your Home
Money 4 You Payday Loans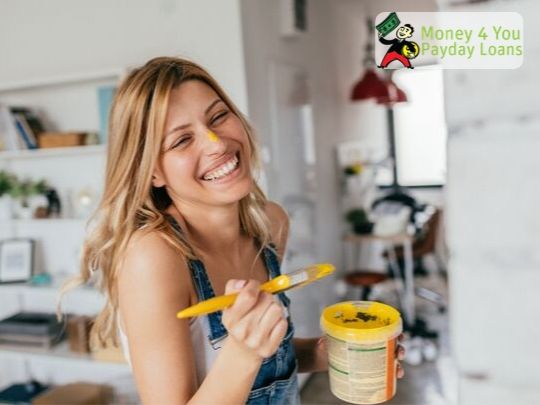 Maybe you're not crazy about home your home looks, but you don't have money for big projects. That's no reason to settle for what you have. Even if you can't do a total remodel of the kitchen or bathroom this year, there are plenty of budget-friendly home improvements to boost the worth of your home and make it a prettier and friendlier place to live. Here are some tips to increase the value of your home.
Inexpensive Home Upgrades
Paint – This is at the top of any list of budget-friendly home updates. There's nothing else that gives you the bang for the buck, both in value and livability. Paint the inside or the outside. Brighten ceilings by painting them white. If the walls already look good, choose a new color for the baseboards, trim and doors. Don't stop with the obvious. New paint makes an old brick fireplace pop. Painting cabinets give your kitchen a facelift without a total remodel.
Landscape – You don't have to call in bulldozers to make your lawn look nicer. Plant shrubs under your windows or along your walkway. Add perennials such as hostas that are hardy, last for years and eventually can be split to give you even more. For an affordable yet charming upgrade, make a stone pathway. Line it with some solar walkway lights, the ones that charge during the day and shine at night.
Dress up your entryway – Replace your overhead lights with something new and stylish. Add a letterbox and address numbers that complement it.
Change interior light fixtures – No matter the style, track lighting or a new chandelier, it brightens your home in more way than one.
Make your stairway a showcase – Maybe recarpeting isn't in the cards right now, but think how a colorful stairway runner might look. For a unique appearance without carpeting, paint the risers a different color than the runs.
Add crown molding– You don't need to be a carpenter. There are lightweight polystyrene products that are a cinch to install.
Enhance your bathroom – Swap out toilet seat covers, hang a new mirror, refresh the caulk and treat yourself to some new shower curtains. Put in a vent. It doesn't take a rebuild to make a nicer space.
Change the door handles and the cabinet and furniture knobs – Brushed brass is an excellent choice but there are many others.
Upgrade to a programmable thermostat – This one pays for itself.
Add a kitchen backsplash – If you're reluctant to tile, use an easy-to-install beaded board.
Install ceiling fans for comfort and beauty.
Shampoo carpets or have it done professionally – Few things brighten a home like a new-looking carpet.
A few inexpensive home upgrades will increase home value and make you happier every day. If you're a little short on cash (and who isn't occasionally) contact Money 4 You Payday Loans. We're locally owned and have been helping folks along Utah's Wasatch Front for over 20 years. Don't worry too much about your FICO score; what you'll need is a checking account and a month at your job.